Useful Info
: faq's
General
How do I join Payatrader?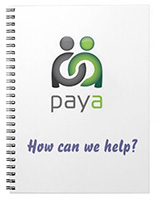 You join by filling in the application form on our website at www.payatrader.com. Once your account is open, if relevant, you can change you brand to either Payaprofessional or Paya Card Services if you wish.

How much is it to join?
See our fees page for current pricing.

Is there an annual or additional subscription fee?
No, there are no additional subscription fees with Payatrader.

What fees will I pay?
You will pay card processing fees based on the weekly total value of the payments you receive through Payatrader.

Is there a contract period associated with my Payatrader account?
There is no minimum contract term associated with your account.

What is Payatrader Lite?
This is a 'lite' version of the service that allows you to accept payments through a single, nominated channel package. Please visit the Payatrader Lite menu for more information.

I've just registered online Ė when will I know if I've been accepted?
Our Customer Services team will manage the processing of your application and notify you of the outcome, typically within 3 working days.

When are transactions paid to me?
Transactions are settled every Tuesday and transferred by BACS to your bank account the same day. BACS payments will normally be credited to your account on the following Thursday i.e. after 2 working days.

How long is it before I get my money?
Settlement takes place each Tuesday and settles all payments processed up to midnight on the preceding Friday. Depending on when you take a payment you can expect to receive the funds into your bank account between 6 and 12 days later, on average 10 days.

Am I able to refund a customer?
You can issue a partial or full refund back to the cardholder. Please visit our pricing page for the refund transaction charge.

My accountant requires proof of the funds I have received Ė where can I find this information?
Every time we settle to your account we send an electronic invoice to your account. This details the transactions we have settled and our charges. Both transactions and settlement invoices can be downloaded in spreadsheet form if required.

I've forgotten my password and can't login?
Please follow the prompts on the login page for a forgotten password. The website will help you to select a new password.

How do I tell you about my change of address, telephone, other details?
You can update your details when you log into your account on the 'My Details' page. Please note some changes, such as a change to your bank account details, will need to be notified by email using the special link in the 'My Details' page.

Why canít I request changes over the telephone?
This is a security measure. Our website requires you to enter your password to authorise the changes you want to make. If you do not have access to the Internet, you can tell us about changes by writing to Acceptacard Customer Services, Victory House, 400 Pavilion Drive, Northampton, NN4 7PA. Please note that we may carry out additional checks to ensure that this is a genuine request for changes.

What is a disputed transaction?
This is where a cardholder is not satisfied with the goods or services supplied.We will put the transaction on hold until you have rectified the situation to the satisfaction of the cardholder.

What happens if a customer doesn't recognise a transaction and contacts their bank to raise a chargeback?
The cardholder's bank will notify us if a chargeback request has been raised. If this happens we will help you defend the claim. It is important that you respond immediately if notified, and asked to provide further information. Please note that the vast majority of chargebacks are successfully defended.

How do I close my account?
You can close your account by writing to us at Payatrader, Victory House, 400 Pavilion Drive, Northampton, NN4 7PA.

I have friends who would like this service do you pay an introduction fee?
Yes, just complete your friends details on the 'Recommend a Friend' page when you next log into payatrader.com. We'll send them an email telling them all about Payatrader and, if they sucessfully register and validate their new account, we will credit your account with your reward (£25). Please note this does not apply to Payatrader Lite accounts.

When do I get my reward for introducing a friend?
As soon as your friend successfully validates their Payatrader account we will credit your account with your reward. This will be paid into your nominated bank account during the weekly settlement run.

How do I get a record of the information you hold about me (Data Protection Act / Subject Access Request)?
We can provide you with a report of all the information we hold about you. Please submit your request in writing to The Data Controller, Payatrader, Victory House, 400 Pavilion Drive, Northampton, NN4 7PA. We will respond within 30 days. Please note that we may charge a fee for this service.

I have people working for me can they have a card for Payatrader?
Yes, when you register online at www.payatrader.com simply enter how many people in your business need to take card payments and then provide their name and mobile telephone details in the space provided.

Who is acquiring my transactions?
We will set you up with your existing merchant acquirer. If you do not have an existing acquirer, your transactions will be processed by our chosen acquirer. Details of the acquirer of your transactions are provided with your account details.You join by using the Quick Quote tool to select your account type and services and by filling in the application form.

Chip & PIN terminals
Iíve ordered a terminal, when will this arrive?
We send you a confirmation email to acknowledge your order and confirm payment. Delivery will normally be within 14 days from the date of the order. We will also keep you informed of any changes to the expected delivery date.

What is the weekly charge for?
There is no weekly charge with the Miura M010.

If you have a PayMate terminal (not available for new orders) there is a weekly charge that covers the SIM data charges and terminal support which is deducted from any monies due to you before final settlement. Should there be insufficient funds in your account to cover this charge we reserve the right to contact you to request a separate payment to cover any outstanding amounts.

Is there a discount if I buy multiple terminals?
If you require 10 or more terminals please contact us on 0333 123 1243 and select the SALES option.

My terminal is not working properly, what do I do?
If you are having a problem operating the terminal please follow the instructions in the User Guide (available in the Resources area) to reset the terminal. If you are still experiencing problems call our support line on 0333 123 1243 and select the SUPPORT option.

How do I issue a customer receipt? My terminal has no printer.
Your customer has 2 choices. They can provide their mobile number when prompted by the terminal and this will send an SMS receipt containing a link should your customer require a printed copy. If they don't have a mobile phone number the terminal will prompt you to provide a written receipt (there are partially completed templates that you can download and print in the Resources area).