Offers & Press
: business bank account offer
NEW! LOW COST BUSINESS BANK ACCOUNT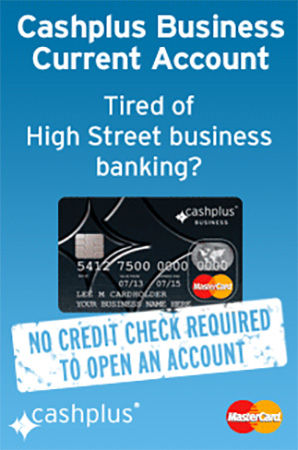 Payatrader is delighted to introduce a new partner Advanced Payment Solutions, provider of the award winning Cashplus Business Current Account. This means you can now join the thousands of UK businesses enjoying the benefits of Cashplus - a low cost account specifically designed for start-ups and small businesses.

What's more, we've arranged an exclusive discount - no annual account management fee for the first year, saving you £69!*

With the Cashplus business account there's no complex paperwork to complete - just a simple online
application form and an instant online decision. What could be easier?
FREE to pay in cash

FREE bank transfers into account

FREE to set up direct debits

Online Banking & Mobile App

High Street presence via the Post Office

UK customer service
First 12 months FREE then a low annual fee of £69 per year*



Is it for you?
The award winning Cashplus Business Account works in much the same way as a high street business bank account, but typically at a fraction of the cost! It's ideal for start-ups that may be using a personal bank account, businesses paying too much in fees to their current provider or those with no or impaired credit history. As no credit check or interview is required, you can apply for the account quickly online, with verified customers typically being set up within a few minutes.

How it works
With the CashPlus Business Account you can do everything except accept and issue cheques. You'll be able to invoice clients in your business name and your business will be displayed on the Business MasterCard® that comes with the account. The main difference to a High Street business bank account is that there are no traditional branches. However, you'll be able to send and receive bank transfers, pay in cash at over 13,000 locations (including the Post Office) across the UK and set up standing orders & direct debits as normal. Plus you can nominate the Cashplus account to receive your Payatrader card processing funds - ideal as there are no fees for receiving transfers into the Cashplus Business Account.

Save £69
To apply, click the links on this site or on the Welcome Page of your Payatrader Account. Once your account application has been approved your Business MasterCard® will arrive in 3-5 working days. As a Payatrader referral / member you will be ask to pay £69 when you initiate your account. The fee will be refunded to your card within 21 days.

Terms & Conditions
*You do not need to have a Payatrader account to apply for this offer. If you apply for a Cashplus Business Account via the links on this site you will be eligible to have your first year's annual fee refunded within 30 days of paying the annual fee and activating your primary card. Any other fees and charges will still apply. Terms and conditions apply.

Accounts available to applicants aged 18 years+ and businesses based in the UK. Cashplus is issued by APS Financial Ltd (AFL) pursuant to license by MasterCard International Incorporated. AFL is authorised by the Financial Conduct Authority under the Electronic Money Regulations 2011 for the issuing of electronic money. Cards are serviced by Advanced Payment Solutions Ltd (APS) which operates the card on behalf of AFL. Credit Facilities are provided by APS and are subject to approval. APS is authorised and regulated by the Financial Conduct Authority for consumer credit activities (Registration No. 0608377). AFL & APS registered address is 6th Floor, One London Wall, London EC2Y 5EB. Registered in England and Wales under company numbers 06029941 & 04947027 respectively. MasterCard and the MasterCard Brand Mark are registered trademarks of MasterCard International Incorporated. The Post Office® and Post Office symbol are registered trademarks of Post Office Ltd.